There are many unusual creatures that live in our world, some of which are still undiscovered. These creatures can be found in the depths of the ocean, in the darkest of forests, or even in your own backyard. Some of them are very dangerous while others are harmless. Some of them are very small while others are huge. Some of them live in the water while others live on land. Some of them can fly while others cannot. Others are so rare that they are only seen by a handful of people each year. All of these creatures are unique and interesting in their own way. Some are so strange that they seem to be from another planet. Others are just oddities that we don't quite understand. However, these creatures are very real and live among us. Here are a few of the most interesting and unusual creatures that live among us.
Sloths – One of the weirdest animals in the List of the Unusual Creatures
Sloths are one of the weirdest animals in the world. They live in trees and sleep a lot. They are also very slow-moving. Sloths are native to Central and South America and can be found in rainforests. They spend most of their time sleeping or resting in trees. Sloths are very slow animals and can only move about three to four feet per minute.
Despite their sluggishness, sloths are good swimmers and can even hold their breath underwater for up to 40 minutes! These strange creatures have an interesting way of life and are definitely worth learning more about.
Can Sloths Hold Their Breath Longer Than Dolphins?
Dolphins and sloths may not have much in common, but they share one exciting ability: the capacity to hold their breath for long periods. Dolphins, of course, are well-known for their underwater prowess. They can stay submerged for up to 8 minutes at a time, thanks to their high levels of myoglobin (an oxygen-binding protein) and their slow, steady heart rates. On the other hand, sloths are more typically associated with laziness and sluggishness. But these animals can also hold their breath for extended periods of time – up to 40 minutes in some cases! This is due to their low body temperature, low metabolism, and ability to slow heart rates which help to conserve oxygen.
Flying Fish
Flying fish are one of the most interesting creatures in the sea. Their unique ability to "fly" out of the water and glide through the air is something that has fascinated people for centuries. There are over 50 different species of flying fish, all of which are found in tropical and subtropical waters around the world. They range in size from about 4 inches (10 cm) to nearly 2 feet (60 cm) long.
Flying fish get their name from their ability to use their large fins to "fly" out of the water and glide through the air for short distances. In some cases, they have been known to fly up to 650 feet (200 m)! While they are in the air, flying fish can reach speeds of up to 37 miles per hour (60 km/h).
Giant Clam
Giant clam is the common name for a group of large, saltwater clams. The giant clam is the largest living bivalve mollusc. Giant clams grow to an average length of 1.2 m (4 ft), with the largest specimens reaching up to 2 m (6.6 ft). These massive clams can weigh up to 200 kg (440 lb). Giant clams are found in tropical waters around the world, typically living in shallow lagoons and reefs.
The giant clam's shell is thick and heavy, measuring up to 1 m (3 ft) across. The shell is composed of two hinged halves, or valves, that are connected by a strong muscle. The inside of the shell is lined with a layer of tissue called the mantle.
Proboscis Monkeys
Proboscis monkeys are an unusual species of monkey that is easily recognizable by their long, bulbous noses. These monkeys are native to the island of Borneo and live in the mangrove forests that line the coast.
Proboscis monkeys are interesting creatures with a number of unique features. In addition to their large noses, they also have webbed feet which help them swim well. They are also proficient jumpers and can leap up to 20 feet in a single bound!
These intelligent animals are social creatures that live in troops of up to 40 individuals. The troops are led by a dominant male who mates with the females in the group. Proboscis monkeys are relatively peaceful animals but will fight fiercely to protect their territory from intruders.
Echidna
Echidna, also known as spiny anteaters, are small egg-laying mammals native to Australia and New Guinea. These creatures are easily recognized by their long, spiny tails and snouts. Echidnas typically live in dry, rocky habitats where they can find plenty of food and shelter.
There are two main types of echidnas: the short-beaked echidna and the long-beaked echidna. As their names suggest, these animals differ in the size and shape of their beaks. Short-beaked echidnas are found throughout Australia, while long-beaked echidnas are only found in New Guinea.
Echidnas are unique creatures that play an important role in their ecosystems. These animals help to control populations of insects and other invertebrates by eating large quantities of them each day.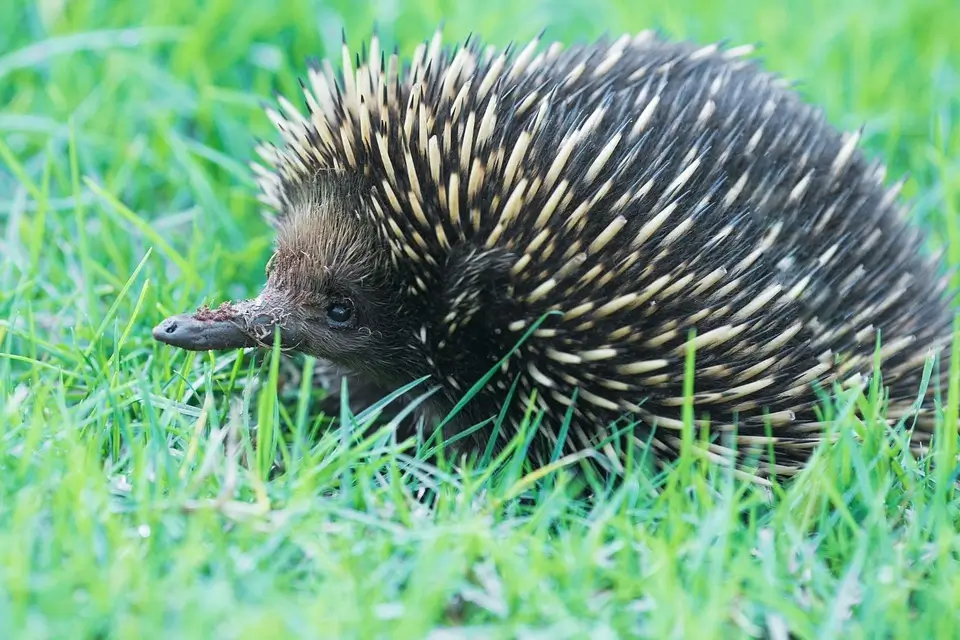 Pangolin
Pangolin are strange looking animals that are often mistaken for reptiles because they are covered in scales. They live in Africa and Asia and are nocturnal creatures that spend most of their time in trees. Pangolin is the only mammal in the world that is completely covered in scales. The scales on their bodies act as armor to protect them from predators. These animals are very shy and gentle by nature and are not aggressive unless provoked.
Markhor
The markhor is a large species of wild goat that is native to the mountainous regions of Central and South Asia. The name "markhor" comes from the Persian word for "snake-eater", and refers to the animal's habit of eating snakes. Markhors are the national animal of Pakistan and are also found in Afghanistan, India, and Tajikistan.
Markhors typically stand about 3 feet tall at the shoulder, and can weigh up to 200 pounds. They have long, shaggy coats that are brown or black in color, and their horns can grow up to 3 feet in length. Markhors live in mountainous areas where they eat grasses, leaves, and twigs. They are sometimes hunted by humans for their meat and horns.
Gharial
The gharial is a crocodile-like creature that lives in the water. They are unique among crocodilians for their long, narrow snouts. Gharials have interlocking teeth that help them to trap their prey. They are found in rivers and lakes in South and Southeast Asia.
Gharials can grow up to 20 feet long and weigh up to 2,000 pounds. They are gray or brown in color with dark spots on their bodies. Their long tails are used to propel them through the water. Gharials are good swimmers and can reach speeds of up to 30 miles per hour.
Gharials are carnivores and prefer to eat fish. However, they will also eat reptiles, mammals, and birds. Gharials use their powerful jaws to crush their prey.
Dugong
Dugong lives in warm coastal waters around the world. The animals are related to manatees and have a similar appearance, but are shorter and have a fluked tail. They grow to about eight feet long and weigh up to 1,000 pounds.
Dugongs are gentle vegetarians that graze on seagrass meadows. The animals use their large, paddle-shaped tails to swim gracefully through the water. They often rest submerged, coming up to breathe every five minutes or so.
Dugongs are social creatures that live in herds of 10-20 individuals. calves stay close to their mothers for several years. When dugongs reproduce, the male will mate with several females in one breeding season. They are an endangered species due to hunting and habitat loss.
Nudibranchs
Nudibranchs are soft-bodied, marine gastropod mollusk that lacks shells. They are noted for their often bright colors and interesting shapes. Nudibranchs can be found in all the world's oceans, from the tropics to polar regions.
Most nudibranchs are herbivores, feeding on sponges, soft corals, anemones, and hydroids. A few species are carnivorous and feed on other nudibranchs, flatworms, and copepods. Nudibranchs range in size from less than 1 mm to more than 30 cm. Nudibranchs reproduce by laying eggs in gelatinous strings or masses. The larvae hatch and settle at the bottom where they metamorphose into adults.
These are only a few of the many strange and unusual creatures that exist in our world. Learning about them can help us to appreciate the diversity of life on Earth and gain a greater understanding of the natural world. Read our Post about the most dangerous fishes in the world and where you might find them.